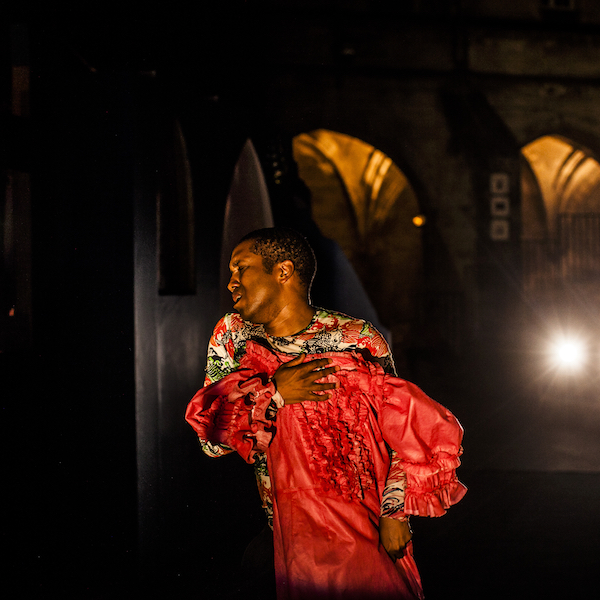 FAQ: Trajal Harrell
What was the first move you started the day with?
Going to the bathroom.
Where is the line between movement and dance?
The choreographic.
Why do you dance?
To keep belief in humanity.
Do you prefer dancing on your own or together with other people?
I don't prefer one over the other.
What is your inspiration when you do choreographies? What was the inspiration/starting point for the work you show at DANCE?
Inspiration comes from too many places to name. It's endless. For Caen Amour, I first wanted to make a piece that could be shown in theaters and museums.
Do you have a style? Can you describe it?
It emanates from runway movement as a basis for contemporary dance and choreography.
What do you like better: the performance or the rehearsal?
The performance.
How do you prepare for rehearsals? Do you come with a detailed concept/score or do you develop while improvising?
I work with a script that is developed on beforehand.
What about the ideas and personalities of the dancers – do you want to integrate/show them? If yes, how? If not, why?
The dancers are amazing artists. Their artistry is inextricably linked to the work itself as an expressive tool.
In your work: what is the body? (And where is mind?)
I don't know.
* special question: What is the seductive quality in dance? In Caen Amour? 
Art is the exploration of these questions that are too complex to express in a sentence or easy words. Caen Amour is a fictional rendering of a hoochie koochie show and those shows were intended as erotic seduction. So the question of seductive quality is part of the artistic inquiry.
Fotos © Orpheas Emirzas