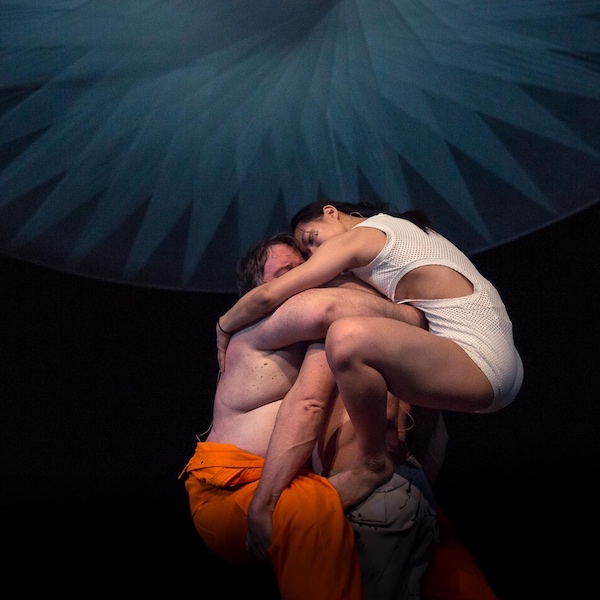 You have to keep the mystery, keep believing that there is something
An interview with Belgian star choregrapher Wim Vandekeybus about his new science fiction play "Mockumentary of a Contemporary Saviour", that premiered on 14th of April in Brussels. DANCE presents the first performance in Germany. 
If you have to put it in a nutshell: To which genre would you assign "Mockumentary of a Contemporary Saviour" and what is it about?
It's a portrait of a contemporary saviour in the future, a kind of sci-fi play, which includes movement.
The piece seems to be very theatrical and involves a lot of text – why was it important to you to include this "libretto"? Why characters and narrative?
We wanted to tell the story through the characters: seven people, who are the "chosen ones" and represent a heterogeneous society. So I wanted these people to be very diverse, morphologically but also in terms of their cultural background. In the piece, countries don´t exist anymore, there are just leftovers of languages. And the people who are chosen by the Messiah are not all dancers. All of them know how to move and are very special characters who represent something. For example, there is a blind dancer, Saïd Gharbi, with whom I have worked many times. He is a real blind person, he doesn't play blind – but in the piece he is at the same time a figure who knows and sees much more than the others. We have a Chinese performer who represents the millions of girls who were killed due to the One Child Policy – a fighter of only 18 years. There is a performer who represents the doubter. In every religion there are doubters, like Thomas in the Christian religion. An actress from Belgium is playing the mother of the Messiah, impersonating at the same time Maria Magdalena and Maria: mother, whore and holy woman. There is a Russian girl who embodies the misery that happened to Russian women during more than 140 years in Russian history. With all the husbands she has had – she's a survivor. So all these kinds of characters exemplify the universal society or a universal story.
How far away from reality is your fictional draft? Can we relate to the characters?
Definitely. In the piece, the seven characters are chosen because of their weaknesses, their "defects" and not because of their perfection. There are several effects, also on the sound level, that make the whole scenery appear strange. But it stays very human. Even if it's about the future, people are still fighting for the values that we lost. And in this way it speaks about this world – and the danger that we can easily lose very basic values: in the future, people don't sleep anymore, they don't dream. Even if there are no countries left, there are still oppositions. It tells a lot about issues related to globalization. But still, it's a very abstract sci-fi idea: there is a kind of white noise out there, which makes it impossible for everyone to exist, because the reporting overflow killed the reality. When I was younger I always said: If you like the rabbit, you don't have to cut it open to see how it looks from the inside, because the rabbit will be dead. You have to keep the mystery, keep believing that there is something. In today's world where everything is viral, digitalized, accessible – the authenticity of our lifes could be killed. 
Why did you choose a subject like belief?
We are living in panic times. I think that the subject of belief a very interesting subject in general, not only during these days. In times of prosper, the temples are empty and in times of panic, the temples are full. Human beings have selfish egos: they create things to fulfill their own wishes. Today, there is a lot of tension in the world due to extreme forms of belief. But in the piece, we are not speaking about terrorism, not about Marine Le Pen etc. I think it's much more interesting if you have a universal story with human beings to which you can relate.
I chose a writer, Bart Meuleman, who is writing very concretely. The opening dialogue is about god and belief. That is, we're playing with the fire right at the beginning. But still, it's a funny mockumentary of who is mocking who: is god mocking the people or are the people mocking god? 
What is the relationship between text and body in the piece?
There is a kind of "Tower of Babel"-related mixture of languages which is almost musical. People communicate. Language is not only used in a descriptive way. In the piece, the performers also use their native language and if there is a problem, they really try to discuss about it. It's the first play in which I show so many interactive discussions. And they are actually communicating. I don't really like to dance a text, but I can speak while I'm moving. For me, it's a very natural thing, very simple and functional – and not a new form that I invented. I am a maker: I create stories. In this show, I used less dance, but certainly a different way of moving that I am very much interested in. I think that contemporary dance does not only need concepts and form, but also needs to feature content.
Interview: Carmen Kovacs
Fotos: Danny Willems